Transform teaching and learning.
Google for Education brings the best of Google to education by transforming learning environments wherever they may be. Empower educators with simple, assistive tools and equip every student with the technology and skills they need to be successful.
Chromebooks
Chromebooks are simple yet powerful devices with built-in accessibility and security features. Deepen classroom connections and keep user information safe.
Shop now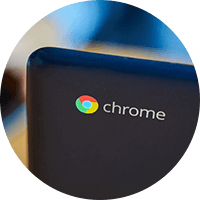 Chrome Education Upgrade
When you can manage the full capabilities of Chromebooks and Chrome OS, you give educators more time to focus on learning outcomes.
Shop now
Google Workspace for Education
Help your institution collaborate easily, streamline instructions, and secure the learning environment.
Contact us to buy
Find the right Chromebook.
Chromebooks enable new ways to manage classrooms and instruct students. Explore Google's full range of sleek, intuitive, durable devices that never sacrifice performance and find your ideal classroom solution today.
Simplify IT with zero-touch enrollment.
As part of a special offer, we're offering free, zero-touch enrollment to handle the automatic enrollment of Chromebooks (typical white glove services are $15 per Chromebook).
Enroll your fleet of Chromebooks faster than ever with zero-touch enrollment from Insight.
Elevate your digital environment.
Used and trusted by over 170 million students and educators worldwide, Google Workspace for Education is the suite of tools you can trust to make collaborating, teaching, sharing and learning as easy as one, two, three.
Learn more about Google for Education offers and solutions.
Meet the diverse needs of learners with Google for Education.
Google Workspace for Education free trial
Make collaboration easier, streamline instruction and keep your learning environment secure with Google Workspace for Education. Eligible institutions can begin a 60-day free trial of the paid editions: Google Workspace for Education Standard, the Teaching & Learning Upgrade, and Education Plus.
Learning for all
Empower students with anywhere access at any time — online or offline. You can also personalize the experience with Google's suite of tools, apps and extensions.
Additional resources for Google