Solutions for your industry
No two industries are the same. That's why we tailor technology solutions to your business sector. Whether you need a robust security system to protect your data and ensure compliance or software that enhances your service delivery, we can help.

Construction
Adopt rugged and easy-to-manage solutions and services that help you increase productivity and reduce construction costs.
Explore our solutions →

Esports
Host world-class esports tournaments that excite competitors and spectators through comprehensive consulting and services.
Explore our solutions →

Financial services
Optimize internal processes with innovative digital tools that strengthen your decision-making and customer experiences.
Explore our solutions →

Healthcare & life sciences
Improve patient outcomes by optimizing clinical workflows and enhancing patient experiences with advanced technology.


Explore our solutions →
Manufacturing
Integrate manufacturing tools — from smart devices to the cloud — to improve coordination, productivity and product quality.
Explore our solutions →
Retail & restaurant
Modernize your shopping or dining experience with technology solutions that enhance customer service and empower associates.
Explore our solutions →

Service providers
Enhance your service offerings with solutions that help you stick out from the crowd and demonstrate your unique capabilities.
Explore our solutions →

Small to medium business
Maximize your IT investments with technology built to thrive in a digital-first market — whether you're an established company or rising startup.
Explore our solutions →

Travel & tourism
Give customers the modern traveling experience they expect with hospitality solutions that help you meet every guest need.
Explore our solutions →
---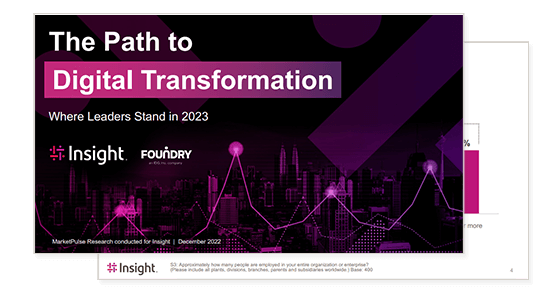 2023 report: You're not alone — roadblocks to innovation
are everywhere.
IT leaders are reporting:
45%
face budget constraints to funding innovation.
42%
face budget constraints to funding innovation.
39%
need to address technical debt resulting from siloed, legacy systems.
39%
have a cultural misadivgnment between IT operations and developers.
Discover what organizations are doing to improve their technology strategy.
Manage today, and transform for the future.
As a super solution integrator, Insight is uniquely equipped to help your organization excel at any stage of your IT journey. From streamlining procurement to lifecycle management to next-generation technology, we're your trusted partner.

5,700

+

skilled, certified consulting and service delivery professionals

9,500

+

sales and client-facing professionals
6,000

+

hardware, software and cloud partners
---
Ready to grow your business?
The right technology investments have the power to radically shift your organization. Together, we'll achieve better outcomes. Connect with our specialists by completing the contact form or using one of the two options below.