See everything. Do anything.
Redefine your workspace with Dell Monitors. Unmatched collaboration features, amazing color precision and innovative front of screen technology are just some of the ways we are leading the pack.
An expansive range.
Our new line of dell commercial monitors deliver forward thinking design and Technology with innovations that maximise employee productivity and collaboration.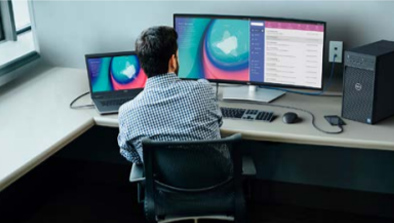 Monitors Boost Business
96% of workers consider monitors the most important feature of their workspace.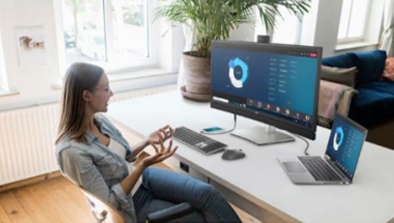 Remote Work Is Here To Stay
67% of companies will extend remote working arrangements in the long run.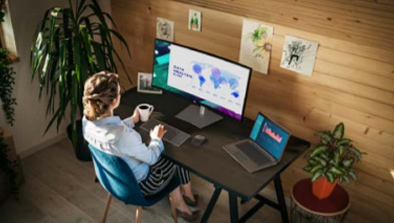 Working From Home
70% of organisations are allowing employees to request for an extra monitor to be shipped to their homes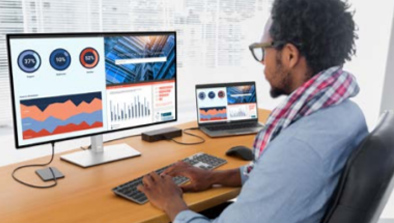 Features Matter
Adding a 27" monitor equipped with Easy Arrange from Dell Display Manager along with a keyboard and mouse can increase productivity by 37.7%.

Dell has been at the forefront of innovation to bring the best of display technologies to our customers — from the ultimate in resolution, contrast and color, to immersive user experiences and unmatched usability

Dell monitors are designed to help enhance productivity with multitasking and comfort features, larger screen sizes, future proof connectivity and DESIGNED FOR more. All the reasons to refresh today with Dell monitors.

Multiple awards and excellent reviews for our monitors stem from around the globe coming from leading computing magazines, online portals and consumers alike. 4 out of 5 Fortune 500 companies5 use Dell monitors showing that our customers vouch for quality, performance and usability of our displays.

Enjoy peace of mind with the commitment to quality, reliability and service that you expect from Dell — demonstrated through an exhaustive testing regimen, and backed by our 3-year Advanced Exchange Service** and Premium Panel Exchange*** (available with RELIABLE Dell UltraSharp and P Series monitors).

Dell monitors conform to environmental certifications and are made with and shipped in environmentally-conscious materials. Built-in energy-efficient features in select monitors can help you save on power consumption, so you can be proud of the environmentally-responsible choice you make.