Palo Alto Networks Cortex
Text Get continuous protection against tough threats with the Artificial Intelligence (AI) power of Palo Alto Networks® Cortex™, available from Insight.
Real-time dynamic defense
Now you can leverage open, innovative and fully integrated security, built on AI and designed to meet your evolving needs.
Comprehensive
Palo Alto Networks Cortex minimizes alerts, fully automates your protection and stays ahead of threats.
Automated
A powerful, intuitive toolkit allows you to move fast as you prevent, detect and investigate risks.
Best-in-class
You'll unlock everything you need to simplify your cybersecurity in a single, powerful platform.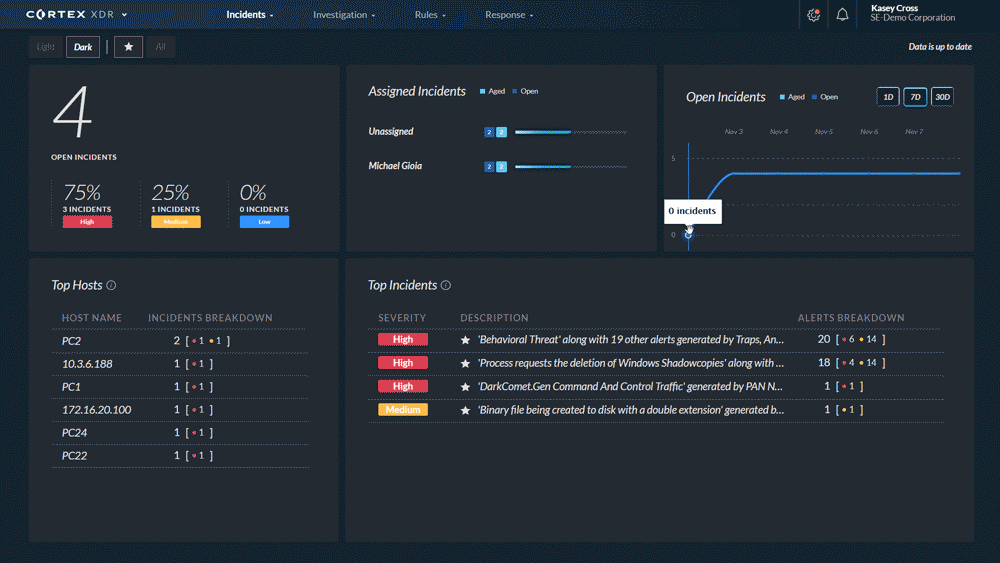 Robust detection and response
XDR prevents attacks across your network, from end-user devices to the cloud. Its advanced protection platform operates entirely on integrated endpoint, network and cloud data. And, by relying on augmented intelligence, it allows you to focus on tackling the most urgent risks.
Prevent even the most complex threats.
Palo Alto Networks Traps™ delivers comprehensive endpoint protection and response. With cloud-based tools, it enables you to protect your network against catastrophic attacks. Plus, it delivers a coordinated response across your network and cloud, ensuring continuous protection.
A data-driven approach to security
Cortex Data Lake collects, transforms and integrates your data for more precise protection.

Simple
You'll be able to leverage all of your data in order to transform and streamline operations.
Smart
AI and machine learning deliver a holistic view of your environment.

Accurate
You'll experience remarkable targeted detection, based on data from trillions of assets.
Elevate your operations.
The Demisto security platform combines orchestration, management and investigation throughout the entire incident lifecycle. You'll gain standardized processes and alerts for more than 300 third-party products, giving your team more power to prioritize critical tasks.
---
Additional resources for Palo Alto Networks