 Print like a pro
Take advantage of smarter print solutions from Insight and OKI Data Americas.
Revolutionize your business with OKI.
Let Insight take your business to a new level with industry-leading OKI® print technologies.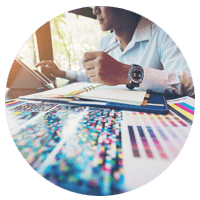 Innovative
For decades, OKI has pushed boundaries, delivering high-value products that solve your biggest challenges.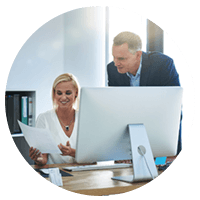 Reliable
OKI printers have a solid reputation as reliable, high-quality and cost-effective print solutions.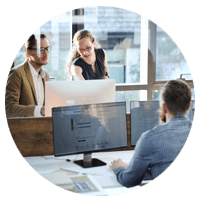 Responsible
OKI is committed to responsible manufacturing — ensuring environmental impact is minimal.
Print beautifully with LED.
OKI is the original pioneer of LED print technology. Since launching its first LED printers nearly 30 years ago, OKI has continued to refine and enhance its technology.
See the LED difference for yourself. Try the popular OKI C332dn LED color printer for crisp graphics with multilevel output quality. Or, for black and white printing, try the OKI B432dn monochrome printer.
Get constant reliability.
For print-heavy environments, dot matrix printers are great performers. They handle the toughest jobs quickly and cleanly. With their durability and versatile performance, OKI dot matrix printers meet a wide range of business needs.
The OKI 320 Turbo is designed for dedicated printing in the most demanding environments. This 9-pin dot matrix printer can easily run twice as long as most printers in its class. With its variety of print settings, the OKI 320 is versatile for any office.
Get more done with multifunction.
Consolidate your in-house printing, scanning and faxing needs with one efficient machine. With a multifunction printer from OKI, you can streamline document-intensive processes to help your employees work smarter.
Speed up your workflows with the high-performance OKI MC573dn multifunction printer. This all-in-one LED printer combines advanced LED technology with document management software, wireless networking, open platform architecture and more. For monochrome printing, try the OKI MB562W.
Run faster and safer with OKI.
For busy, customer-focused retail and hospitality businesses, a good receipt printer is essential. Send your customers on their way faster with the speedy OKI PT341 receipt printer. The PT341 has a built-in power supply and can be wall-mounted to save space in small areas.
Dedication to compliance
OKI Data is committed to the well-being of people and the environment. To that end, OKI has dedicated itself to ensuring its products are compliant with the European Union Restriction of Hazardous Substance (RoHS) Directive.