 Celebrating diversity daily
Our people are our greatest strength. We work diligently to promote a culture that celebrates and rewards creative thinking, collaborative decision-making and innovative solutions.
"I believe that our inclusive and culturally diverse organisation allows teammates to learn and work with talented, ambitious, and globally minded professionals. We are so lucky that we get to experience different traditions and backgrounds from around the world. Bonding over similarities and differences can help our teammates to abandon prejudices, welcoming individual perspectives and creating a culture where all are welcome."

Stefan Tonnon
Vice President, Human Resources, Insight EMEA
Fostering unity through uniqueness
Diversity and inclusion is essential at Insight's 87 offices across the globe. Our teammates each bring unique life experiences, viewpoints and backgrounds — and we believe that's a fundamental factor in building stronger teams.
We believe diversity is a critical component of our success
No. 2

Austria's Best Workplaces, Great Places to Work 2020
No. 11

Best Places to Work, Great Place to Work Australia, 2019
No. 20

Best Workplaces, Great Place to Work UK 2020
No. 23

Fortune 50 Best Workplaces in Technology, 2019
No. 70

Fortune 100 Best Workplaces for Diversity, 2019

Corporate Equality Index recognizes Insight for LGBTQ–inclusive business practices, 2020

EcoVadis Silver Medal for Corporate Social Responsibility, 2019

The Women's Forum of New York recognized Insight for 30% female board representation, 2019
Global resource groups
We promote a respectful and inclusive environment at every level of our business. Teammate Resource Groups (TRGs) are open to all teammates and can be created by anyone — and each has its own unique mission and charter. TRGs are one way we live our values of Hunger, Heart and Harmony.
---
RESPECT at Insight

The Race Equality Support Programme & Ethnicity Champions Team (RESPECT), launched in 2020, is dedicated to driving diversity and inclusion, encouraging recruitment, professional development and retention across communities.
"I'm proud that at Insight, diversity and inclusion are integral to our culture. No-one should ever feel excluded, alienated or unwelcome. It's thanks to our inclusive culture, underpinned by our core values of Hunger, Heart and Harmony, that at Insight, we feel empowered to be the very best we can be. Our Race Equality Support Programme & Ethnicity Champions Team (RESPECT) plays a key role in driving our commitment to diversity and inclusion, ensuring all contributions across the business are recognised and valued."

Jet Golia
SVP Legal Commercial & Global
---
---
Insight Stands Out
Insight Stands Out was launched in the US in 2019 with the aim of fostering a highly visible and inclusive environment that provides resources, assistance and education for Insight LGBTQ+ teammates, families and allies. Insight EMEA is looking to replicate this with our associated communities within the D&I Taskforce.

"We have been working on some on some fantastic initiatives that include LGBTQ+ awareness. Being able to educate and empower teammates to be their authentic self in the workplace really proves that Insight stands by its core values of Hunger, Heart and Harmony."

John Glackin
Customer Operations Specialist
---
---
STEM at Insight
In 2019, we embarked on a journey to support STEM at Insight. Insight's STEM volunteers have taken part in activities with schools such as speed networking, career talks and supporting a STEM club to create prosthetic limbs for other children.
"I am privileged to be a part of a culture which seeks to inspire a whole new generation with the possibilities technology has to offer. Through our dedicated STEM programme we are able to shine a light on the many ways tech can improve and enrich lives."

Miranda Webb
Adoption & Change Consultant
---
---
Women With Insight
Through themed events, Women With Insight members support and mentor each other to improve networking skills, experience personal and professional development, and promote confidence in a traditionally male-dominated industry.
"Community engagement always has been at the forefront of defining what success looks like for Women With Insight. We're eager to bridge the gender gap in the IT industry, and women need the opportunity from a young age to feel empowered by their interactions with technology."

Anna Spencer
Women With Insight
"We'll continue to explore new ways to enhance our digital world with integrity and thoughtfulness at the heart of everything we do."

Joyce Mullen
Insight President and CEO
Our dedication to building a better world
Our corporate social responsibility extends beyond teammates to suppliers and partners we work alongside daily. We have a duty to improve the world and do so by following the United Nations Guiding Principles on Business and Human Rights. Conducting business
with integrity Avoiding corruption
of all kinds Respecting
human rights Reducing our
environmental footprint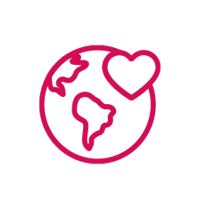 Global diversity
Diversity and inclusion are a foundation for great experiences at a workplace where every teammate can reach their full potential. At Insight, we know the strong economic benefits of becoming involved with the communities around us, and we believe diverse teams perform better by bringing more ideas that benefit a broader group.
We aim to create a global strategy for diversity and inclusion that can be tailored to specific job roles, giving teammates the chance to develop and enhance their skill sets and promote career progression.
"Our teammates are our best champions of hunger, heart and harmony, and we're incredibly proud of their daily dedication to our clients and our communities."

Emma de Sousa
President, Insight EMEA
"Our values are so much more than plaques on a wall for us at Insight, and I truly believe they are at the core of why Insight is a Great Place to Work."

Mike Morgan
Vice President and Managing Director, Insight APAC
We're stronger together.
Learn more about Insight's engrained values of Hunger, Heart and Harmony and how we're striving to improve the workplace and the world.