Our global commitment to corporate social responsibility
We ensure our business practices reflect affirmative principles that safeguard human rights, support fair labor, reduce environmental impact and defend against corruption.
---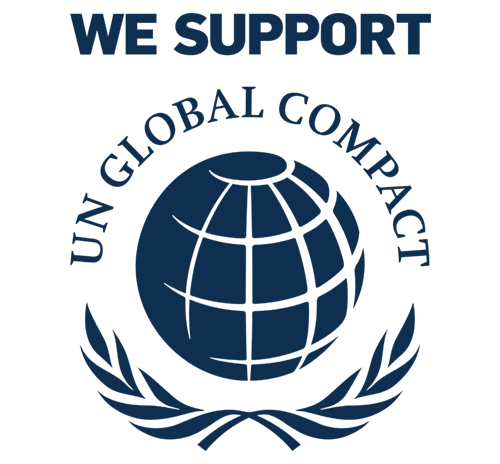 A new era of action and impact
The future depends on what we do today. Signatory companies in the United Nations (UN) Global Compact collectively share the same conviction: that business practices rooted in universal principles contribute to a more stable and inclusive global market that improves today and transforms the future.
Joining the global compact naturally aligns with the culture we've built. And we're pleased to be a signatory of the world's largest voluntary corporate citizenship initiative. Together, we'll help create prosperous and thriving societies with our commitment to live by the UN Global Compact's 10 principles.
"

What drives the meaningful connections we make is a hunger to deliver better outcomes for the world through intelligent technology solutions. We help build smarter, safer workplaces. We help clients make better use of their resources and data. Most of all, we help keep our communities connected and inspired.

"

Joyce Mullen President and Chief Executive Officer, Insight
The 10 principles of the UN Global Compact
Corporate citizens of the UN Global Compact engage in specific business practices derived from: the Universal Declaration of Human Rights, the International Labour Organisation's Declaration on Fundamental Principles and Rights at Work, the Rio Declaration on Environment and Development, and the United Nations Convention Against Corruption.
---
Protecting human rights
We're committed to advancing human rights by applying the power of technology and being champions of change.
°Principle 1
Businesses should support and respect the protection of internationally proclaimed human rights; and
°Principle 2
Make sure they are not complicit in human rights abuses.
---
Supporting fair labor
We'll maintain and advocate for the highest degree of physical, mental and social well-being in the workplace.
°Principle 3
Businesses should uphold the freedom of association and the effective recognition of the right to collective bargaining;
°Principle 4
The elimination of all forms of forced and compulsory labor;
°Principle 5
The effective abolition of child labor; and
°Principle 6
The elimination of discrimination in respect of employment and occupation.
Globally connected, locally invested
The UN Global Compact includes companies that represent nearly every size and sector in both developed and developing countries.
9,500

+

participating companies
---
Reducing environmental impact
We'll focus our environmental sustainability work on key areas where we can make the most impact.
°Principle 7
Businesses should support a precautionary approach to environmental challenges;
°Principle 8
Undertake initiatives to promote greater environmental responsibility; and
°Principle 9
Encourage the development and diffusion of environmentally friendly technologies.
---
Standing against corruption
We'll maintain our long-standing commitment to do business with integrity and comply with anti-corruption laws.
°Principle 10
Businesses should work against corruption in all its forms, including extortion and bribery.
Support the movement.
The UN Global Compact has emerged as a movement with a strong presence. Working with Insight means you'll be contributing to a larger global vision. Our commitment to accountability, transparency and performance improves sustainability for the communities in which we operate.