Services to help your business run smarter
Your business has unique needs and challenges. Our expert consultants will administer your end-user computing on your behalf — so you can focus on your clients.
74% of IT professionals say their organizations consume some bundled products and services — and they plan to continue or increase that.
— 2019 Insight Intelligent Technology™ Index
Read the report
Holistic workplace services
Ensure your employees have all of the tools they need — from initial provisioning to managed services — to stay productive and focused on business objectives.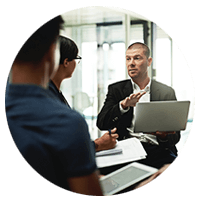 Onboarding, setup & configuration
We'll set up your Office 365® applications, Windows® 10 and management tools, including migration of email to Exchange Online and user data to OneDrive®.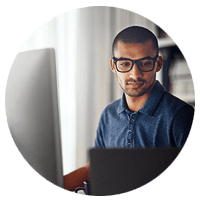 Management, monitoring & reporting
Insight's team of experts will manage user profiles, devices and cloud applications with 24/7 monitoring of your environment to identify risks.
Full-service desk support & hot swap
Troubleshoot end-user issues, including hardware malfunctions, and get overnight delivery of replacement laptops and tablets to mitigate downtime.
Technical assistance from onboarding to refresh
Insight provides hot swap services for devices under warranty throughout your subscription, so you can easily recycle and select new devices upon renewal of your term. You'll gain:
Vendor hardware warranty and support
Dial-in troubleshooting for malfunctions
Overnight delivery of replacement hardware
Disposal services for outdated assets
Minimizing disruptions in the workplace
See how we helped a global biotech company improve service delivery to its 12,000 employees — so they spend less time waiting on IT and more time being productive.
Featured articles, blogs and client stories for managed services
Start building your connected workforce.
We'll help you construct a comprehensive workforce management strategy so you can remain competitive and attract and retain top talent. Connect with our specialists by completing the contact form or using one of the two options below.