Maximizing value across the campus
Inspired students
Accessible apps and high-quality, low-cost Windows 11 devices keep students engaged.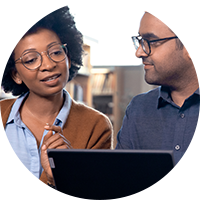 Empowered faculty
Educators reach students of all learning styles and abilities with Microsoft 365 and Windows 11.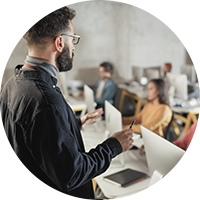 Easy IT management
Intune delivers quick, simple deployment and cost-effective IT management.
Save time and money
The remote management capabilities of Intune for Education empower schools to do more on a budget. You'll free up IT to focus on more important tasks with:
Zero-touch deployment that enables device configuration from anywhere
School data sync that automates the deployment of apps and settings
Updates outside of class time that minimize disruptions
End-of-year remote device resets
Maximizing value across the campus
The Microsoft bundle
Microsoft 365 for education offers schools the best of Microsoft with Windows 11, Minecraft® Education Edition and Enterprise Mobility + Security.
The bundle provides:
Easy, secure student-teacher communications
Modern and accessible classroom tools
Complete visibility and protection
Time-saving teaching databases
Insight in Education, Powered by Windows 11
In this on-demand LinkedIn Live session, experts from Insight and Microsoft provide an in-depth look at the Microsoft® technologies benefiting schools today.
Case study: Remote learning with Microsoft
Learn how one southwestern school district benefited from Insight's procurement and deployment services to power their remote learning transition for six high schools. This case study dives into how Insight quickly and safely simplified the provisioning of nearly 8,000 devices around a tight grant deadline.
Set your school up for success.
When you work with Insight Public Sector to achieve your edtech goals, you empower students and teachers to do their best work.
Enable cost-effective, remote management.
Learn more about Intune for education, available from Insight.