A complete portfolio of solutions
Insight leverages over a decade of cloud expertise to help you unlock new business outcomes and a better employee experience with Cisco Webex Cloud Calling.
Cloud capabilities
You'll get all the business telephony tools you need without the complexity of an on-premises infrastructure.
Hybrid solutions
Hybrid services let you move to the cloud at your own pace while still delivering an integrated experience.
Unified experience
Your teams will have access to every communication feature they depend on through a single platform.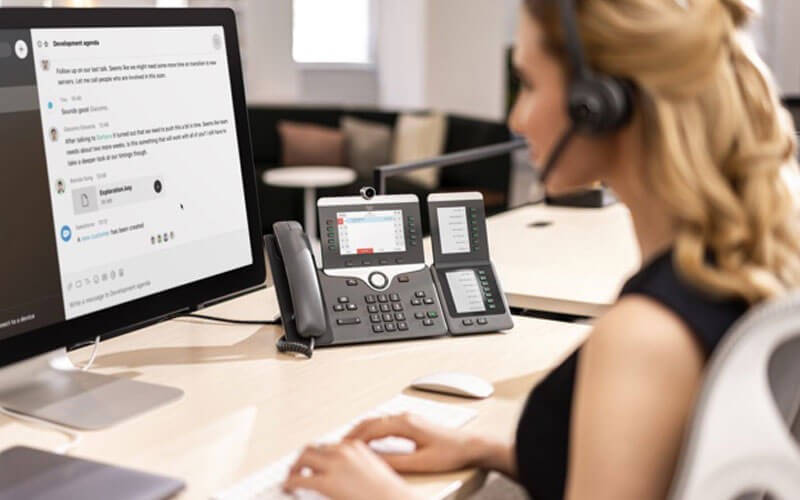 Future-ready collaboration
Cisco offers a comprehensive, innovative suite of cloud solutions and devices, powered by global coverage and a dynamic cloud infrastructure. With a range of flexible, secure options, it's easier than ever to support your calling, meeting and customer contact needs.
The Webex Calling base package includes Webex Teams™ and Cisco phones and headsets. Plus, you can add Webex Meetings, Cisco video devices and subscription features as needed to optimise your platform.
Robust services for simpler management
Our Connected Workforce capabilities make the transition to cloud collaboration easier today — and provide the flexibility you need to stay competitive in the future.
Options for the way you work
With solutions ranging from desktop collaboration to technology-enabled conference rooms, Cisco Webex solutions let you connect instantly from anywhere.
Global functionality
Cisco Webex Calling supports distributed offices and adheres to multi-national networking requirements.
Better cost control
The cloud reduces operational costs, fosters agility and delivers an intuitive, efficient work experience.
Easier scalability
Flexible deployment options suit organisations of every size — even if that size changes in the future.
Faster onboarding
Implementation and training services help your organisation hit the ground running in under 90 days.
Accelerating your technology adoption journey.
We take a consultative approach to accelerating your IT adoption journey. With a deep understanding of business, technology and workloads, we prescribe end-to-end solutions — from strategy and consulting to implementation, procurement and managed services.