Insight named a 2022 UK's Best Workplaces™ for Women for a Third Consecutive Year
Insight ranked 19th in Great Place to Work® Best Workplaces™ for Women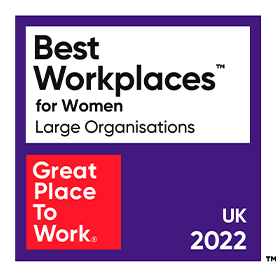 London, 20th July 2022 - Insight Enterprises (NASDAQ:NSIT), a Fortune 500 solutions integrator helping organisations accelerate their digital journey, has today been awarded UK's Best Workplaces™ for Women 2022 by Great Place to Work® for a third year in a row.
Based on anonymous reporting from women across the business about their workplace experience and representation, the UK's Best Workplaces™ for Women 2022 recognition is a testament to Insight's diverse and inclusive culture, and its continued commitment to recruiting and nurturing female talent.
Emma de Sousa, EMEA President at Insight, comments: "We are truly committed to building and fostering a culture that celebrates and promotes diversity across our organisation and in the tech industry in general. We challenge ourselves every year to maintain the high standard we have achieved, but also to push ourselves to become more diverse and more inclusive with new initiatives. The success of these programmes is driven by our teammates, who truly embody our core values of Hunger, Heart and Harmony. It is an honour to be awarded the Great Place to Work® Best Workplaces™ for Women in the UK for the third year running – celebrating our exceptional, diverse and inclusive culture."
Darren Hedley, Insight UK Managing Director, says: "In an industry that is traditionally more male than female, it is extremely vital to promote and support women, and to celebrate and support talent regardless of gender. I am extremely proud that Insight UK has been recognised in this important category for a third consecutive year. The award not only validates our organisation's strong commitment to diversity and inclusion, but also recognises the efforts of our Diversity and Inclusion workforce. This particularly includes all our teammates who get involved in countless initiatives to celebrate diversity and promote equal opportunities across our business. With a senior executive team made up of a majority of women, Insight UK will continue to take an active role in advocating and promoting more diversity in the technology industry."
The win follows Insight's recent awards, such as UK's Best Workplaces™ for Wellbeing 2022 award, Best Workplaces™ in the UK (Large Organisation) 2022, as well as The Great Place to Work's® Best Workplaces™ in Europe 2021.
Angela Hughes, EMEA HR and People Leadership Director at Insight, says: "Our teammates are at the heart of our award-winning company culture, and their success drives our business forward as well as grows our stand-out culture. In order to succeed as a team, diversity is vital to bring different viewpoints to the table and achieve the most well-rounded results. At Insight, we have built some outstanding Diversity and Inclusion initiatives, such as our Teammate Resource Groups that focus on increasing awareness and promoting equality for a specific group of people – whether that be women, the LGBTQ+ community, those from minority ethnic backgrounds or those living with visible or non-visible disabilities. It is a great achievement to be recognised as a UK's Best Workplaces™ for Women again this year – this award is a true credit to the dedication and continued hard work that so many of our teammates put into making Insight even more diverse and inclusive."
Great Place to Work® is the global authority on workplace culture. Since 1992, they have surveyed more than 100 million employees around the world and used those deep insights to define what makes a great workplace: Trust.
To access the UK's 2022 Best Workplaces™ for Women by Great Place to Work® ranking, visit https://www.greatplacetowork.co.uk/awards/women/uks-best-workplaces-for-women-2022/#Large.
For more information about Insight, visit uk.insight.com or call 0344 846 3333.
Fast Facts
Insight was founded in
1988 and has global headquarters in Tempe, Arizona.
We provide intelligent technology solutions - hardware, software, cloud and support services.
We have operations in 21 countries and serve clients in more than 180 countries.
We're Microsoft's No. 1 Global Licensing Solution Provider.
Insight offers support in 15 languages.
---
About Insight

Today, every business is a technology business. Insight Enterprises Inc. empowers organisations of all sizes with Insight Intelligent Technology Solutions™ and services to maximise the business value of IT. As a Fortune 500-ranked global provider of Digital Innovation, Cloud + Data Centre Transformation, and Connected Workforce solutions and services, we help clients successfully manage their IT today while transforming for tomorrow. From IT strategy and design to implementation, management and supply chain optimisation, our 11,000 teammates help clients innovate and optimise their operations to run business smarter. Discover more at uk.insight.com.
Contacts

Amie Mulderrig
Insight Direct UK
Tel. 0844 692 5118
Email: amie.mulderrig@insight.com
Melissa John
Insight Direct UK
Tel. 0734 271 6154
Email: melissa.john@insight.com