Insight awarded UK's 2022 Best Workplaces™ for Large Organisations by Great Place to Work®
The prestigious accreditation recognises organisations with an exceptional workplace culture.
London, 27th April 2022 - Insight Enterprises (NASDAQ:NSIT), a Fortune 500 solutions integrator helping organisations accelerate their digital journey, has today been recognised as one of the UK's Best Workplaces™ in 2022 in the Large Organisations category by Great Place to Work®, the global authority on workplace culture.
This award highlights Insight's stand-out, people-centric culture, underpinned by the organisation's core values of Hunger, Heart and Harmony. The accolade follows Insight's recent UK's Best Workplaces™ for Wellbeing 2022 award, in addition to receiving The Great Place to Work's® Best Workplaces™ in Europe 2021, the Great Place to Work's® Best Place to Work in Tech 2021, and the Great Place to Work's® Best Workplace for Women 2021.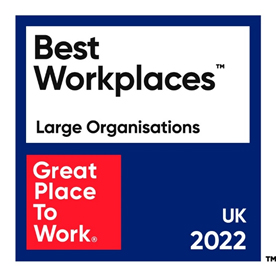 To determine the 2022 UK's Best Workplaces™ list, Great Place to Work® performed rigorous evaluations of hundreds of employee survey responses alongside Culture Audit™ submissions from leaders at each company. They then used these data insights to benchmark the effectiveness of companies' employee value propositions against the culture their employees actual experience.
Those businesses who achieve the highest scores after evaluation receive Best Workplaces™ status.
Darren Hedley, UK Managing Director at Insight, said: "I am proud to see Insight named as a UK Best Workplace for Large Organisations in 2022 by Great Place to Work®. This award is testament to our amazing employees and the fantastic work culture that each and every one of them has helped build and shape. We strive to attract and hire the best people the industry has to offer, and are always on the lookout for individuals who can enrich our company culture with their personalities and dedicated work ethic. We believe our employees are our greatest asset, personifying our core values internally as well as outside the organisation to our partner and client network, setting a foundation for our success year on year."
Angela Hughes, EMEA HR and People Leadership Director, said: "At Insight we embrace the different skillsets, perspectives, and backgrounds of teammates across the organisation. We aim to build a culture around inclusion, diversity and belonging at Insight, which is why it's so fantastic to see that we have received the UK Best Workplaces for Large Organisations award. Not only are the efforts our organisation and employees put in to make Insight a great workplace paying off, but we see our teammates living our core values of Hunger Heart and Harmony every day. I am proud to be part of such a passionate, professional, and diverse global team."
Great Place to Work® is the global authority on workplace culture. Since 1992, they have surveyed more than 100 million employees around the world and used those deep insights to define what makes a great workplace: Trust.
To access the UK's 2022 Best Workplaces™ for Large Organisations by Great Place to Work® ranking, visit https://www.greatplacetowork.co.uk.
Fast Facts
Insight was founded in
1988 and has global headquarters in Tempe, Arizona.
We provide intelligent technology solutions - hardware, software, cloud and support services.
We have operations in 21 countries and serve clients in more than 180 countries.
We're Microsoft's No. 1 Global Licensing Solution Provider.
Insight offers support in 15 languages.
---
About Insight

Today, every business is a technology business. Insight Enterprises Inc. empowers organisations of all sizes with Insight Intelligent Technology Solutions™ and services to maximise the business value of IT. As a Fortune 500-ranked global provider of Digital Innovation, Cloud + Data Centre Transformation, and Connected Workforce solutions and services, we help clients successfully manage their IT today while transforming for tomorrow. From IT strategy and design to implementation, management and supply chain optimisation, our 11,000 teammates help clients innovate and optimise their operations to run business smarter. Discover more at uk.insight.com.
Contacts

Amie Mulderrig
Insight Direct UK
Tel. 0844 692 5118
Email: amie.mulderrig@insight.com
Melissa John
Insight Direct UK
Tel. 0734 271 6154
Email: melissa.john@insight.com