 Power your modern workforce
Microsoft 365™ combines Microsoft® solutions to transform the way your employees work.
The right option for you
Every business is unique. That's why at Insight, we offer ways for your organization to purchase Microsoft 365 to match your staff size and objectives.
Bundled solutions
Need up to 500 seats? Our Modern Workforce Solutions combine Microsoft 365 with our IT services and ongoing support.
Volume licensing
Need more than 500 seats? We'll help you explore your licensing choices to get the best pricing and Enterprise Agreement.
Three solutions in one
Microsoft 365 unites Office 365®, Windows® 10 and Enterprise Mobility + Security to deliver an empowering trio for businesses.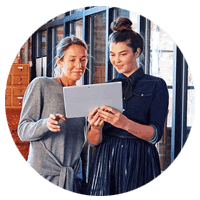 Office 365
Gain access across devices, along with essential collaboration tools and apps.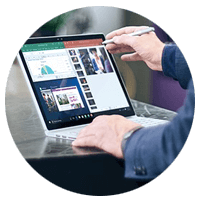 Windows 10
Experience the familiarity of your desktop and operating system, no matter the device.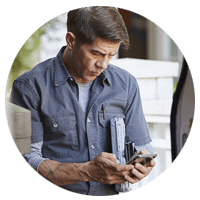 Enterprise Mobility + Security
Secure from the cloud for advanced identity, device management and more.
Microsoft 365 for enterprise
Enterprises can choose between two plans: Microsoft 365 E3 and Microsoft 365 E5. Microsoft 365 Enterprise helps employees be creative and work together securely.
Enable teams to work naturally with ink, voice and touch — backed by tools that use artificial intelligence and machine learning. The solution unifies IT management across all users, devices, apps and services. And, it safeguards critical data with built-in, intelligent security.
Microsoft 365 for business
Gain a business solution that supports up to 300 users. Microsoft 365 Business integrates with Office 365 Business Premium for tailored security. And, it offers management features from Windows 10 and Enterprise Mobility + Security.
Help teams connect by uniting employees, customers and suppliers. With Microsoft 365 Business, employees can work from anywhere, on any device. Protect your company data across multiple devices, with always-on security.
Organize classrooms like never before.
Microsoft 365 for education makes it easy to collaborate without boundaries. Windows 10 gives educators access to an affordable learning platform that provides advanced performance and security schools can count on — and use to power learning.
Using Office 365, teachers can build curriculum with familiar apps and work from anywhere, on any device. Invite smaller teams to join in on projects, or consolidate larger group projects and see files update in real time, without boundaries.
Microsoft 365 plans
With Microsoft 365, you gain three powerful solutions in one: Office 365, Windows 10 and Enterprise Mobility + Security. Enable your teams with either Microsoft 365 E3 or Microsoft 365 E5.
Microsoft 365 E3
Office 365 Enterprise E3, Enterprise Mobility
+ Security E3 and Windows 10 Enterprise E3
Best-in-class productivity
IT security and control
Supports 300 users or more
Licensing optimization and analysis
Microsoft 365 E5
Office 365 Enterprise E5, Enterprise Mobility +
Security E5 and Windows 10 Enterprise E5
Advanced security
Business analytics
Supports 300 users or more
Licensing optimization and analysis
Management and collaboration tools
All Microsoft 365 subscriptions come with our Basic bundle. Upgrade with our Migration services add-on to receive migration services, or to our Admin-on-behalf services add-on to get admin-on-behalf services.
Basic
Microsoft 365 subscription
24/7 IT support from Levels 1–3, depending on your needs
Level 1: Insight will help with your account management and any services and security changes.
Level 2: We'll resolve application issues and help you with connectivity and advanced problem resolution.
Level 3: Insight will work with Microsoft to fix service breaks, large-scale network disruptions and to provide complex support.
Migration services add-on
Built-in migration services for:
Office 365
Exchange Online
Migration details will be stated in a custom Scope of Work (SOW) from Insight
Migration add-on includes moving:
Admin-on-behalf services add-on
Admin-on-behalf services:
Complete administration of Office 365
User management: Add or remove users and make changes on any user account
Domain management: Enable additions of new domains and information on how to change the Domain Name System (DNS)
Service changes: Add or change any services included in Office 365, including Microsoft Teams™, OneDrive®, Exchange Online, SharePoint® Online, Yammer®, PowerApps and Flow
Security and compliance: Includes application configuration and changes to rules, policies or services
Insight is your partner for Microsoft 365.
We'll help your organization run smarter and more efficiently. Insight is a leading Microsoft global partner and has extensive data center transformation expertise — providing the support you need every step of the way.