Learn how HoloLens 2 can boost your organization's productivity

Manufacturing
Reduce downtime, transform your workforce, and build more agile factories. With HoloLens 2, employees can quickly learn complex tasks and collaborate in the moment from anywhere.

Healthcare
Empower teams to work securely and enhance patient treatment reducing time-to-care. With HoloLens 2, health professionals can connect with remote experts, and call up patient data and go beyond x-rays to consult MRI images in 3D at the point of care.

Education
Improve learning results and revolutionize curriculum with hands on lesson plans that convey complex concepts in 3D. With HoloLens 2, students can learn-by-doing from anywhere with holographic instructions and assessments.
Discover the future of user experience
and immersive collaboration.
Register for our monthly HoloLens 2 Demo Workshops today.
View all sessions
Insight brings HoloLens to Niagara College
Check it out! By bringing HoloLens to Niagara College, Insight and Microsoft have made possibilities a reality and enhanced productivity.
Remote support at a distance
Empower firstline workers to solve problems in real-time with experts globally, bring critical information into view and conduct remote inspections using Microsoft Dynamics 365 Remote Assist on HoloLens, Android or iOS devices.
Provide employees with the critical tools they need via remote access to schematics, diagrams, work orders, and other pertinent information while onsite. Collaborate with experts from anywhere with Dynamics 365 Remote Assist to boost customer satisfaction, increase first time fix rates, avoid travel costs, minimize carbon footprint and improve employee productivity.
On-the-job guidance
Create step-by-step holographic instructions to use where the work happens.
Introducing the Insight Remote Assist Fast Start
Insight has developed a structured approach to Microsoft Remote Assist/HoloLens 2 deployments, delivered via a remote session. It covers the basics of Remote Assist and HoloLens 2 and helps guide you on the path to effective deployment.
Next-level Exploration
See how Microsoft® HoloLens 2 empowers hands-on training and collaboration through an augmented reality headset.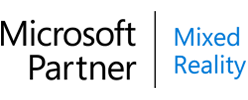 Groundbreaking enterprise solutions
As a Microsoft Mixed Reality Partner, Insight's Digital Innovation team creates mixed reality experiences that help our clients revolutionize how they tackle business challenges.