Anytime, anywhere
Maximize your mobile workstyle and achieve more, faster.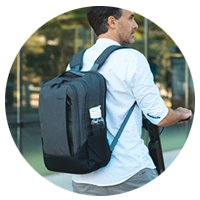 Carry
Targus laptop cases and bags make it easy to be mobile, with intuitive organization and ergonomic construction.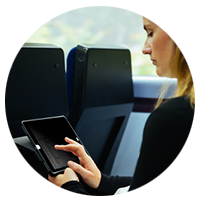 Protect
Safeguard your devices and reduce the chance of theft with everything from Targus® laptop cases to the best laptop accessories.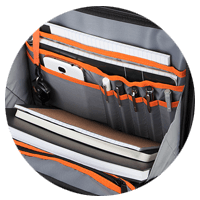 Connect
Boost productivity wherever you are with key workstation accessories — like mice, keyboards and docking stations.
Introducing the 2 Office Antimicrobial Backpack
Imagine flexibility, high-capacity, innovative design and antimicrobial protection all in one backpack. Targus's antimicrobial infused protective finish prevents the growth of microorganisms on the backpack. Not only do you receive an innovative, stylish backpack, but the backpack is protected from everyday germs.
The Antimicrobial Backpack includes the following features:
Adjustable SafePort® Sling laptop protection
Clamshell design to store and organize larger accessories
Modular design with detachable front pouches
Hidden water bottle pocket
Integrated pockets on shoulder straps to store small accessories
Zippered and padded lumbar pocket
Backpack rain cover
Privacy at its finest
The 4Vu Widescreen Monitor Privacy Screen delivers ultimate viewing privacy by reducing the viewing angle on your monitor, ultimately safeguarding information and sensitive data from prying eyes. Protect your privacy and important information at all times, whether in the office or in public, with these high-performing privacy screens.
Targus 4Vu privacy screens:
Protect private information with constrained viewing angles.
Filter blue light, minimizing eye strain.
Anti-microbial coating on the screen prevents bacteria growth.
Anti-reflective coating that blocks screen glare for a comfortable viewing experience.
Enhance your viewing experience with glossy or matte sides.
Reusable silicon adhesive strips enable quick and easy installation.
Benefit from one-year limited warranty.
Universal docking
Turn your laptop into a workstation with the compact USB-C® DP Alt Mode Single Video 4K HDMI/VGA Docking Station. Connect your USB-C-enabled devices to a single HDMI or VGA display, while also connecting to an ethernet network. Versatile connections let you plug in your key peripherals like keyboards, mice, flash drives or hard drives into the USB-A and USB-C ports as well.