3x lower cost to buy a newer Windows Pro PC vs. maintaining a 4+ year old PC1
86% of security decision-makers agree modern hardware would help protect against future threats.2
Windows 11 Pro aligns to the 99.6% application compatibility rate Windows 10 meets.3
M

eet with our Windows 11 Pro experts.

We'll help you explore all the benefits Windows 11 Pro offers your business during one of our live events. You'll learn about the security, performance, management and productivity enhancements the advanced operating system offers through modern devices.
In

crease productivity and return on investment by equipping each user with the right device.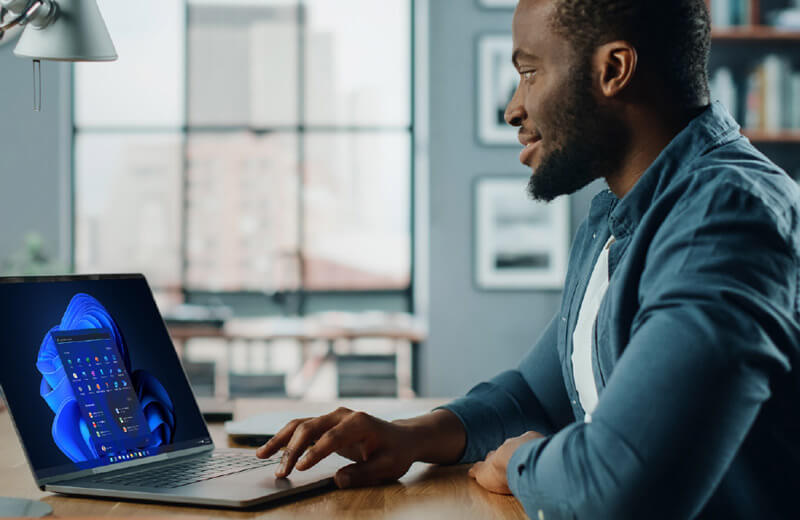 R

evitalize hybrid work with Windows 11 Pro.
Supporting hybrid teams while reducing IT management burden is a business imperative. Windows 11 Pro devices from Insight can help. Windows 11 Pro is built on the same foundation as Windows 10, but with new productivity and management capabilities.
Discover how you can streamline processes and reduce complexity — all while using the applications you're used to — in our ebook that addresses everything you need to know before switching to Windows 11 Pro.
O

ur Windows 11 Pro partners
Windows 11 Pro frequently asked questions
E

nergize work and management with Windows 11 Pro.

Windows 11 Pro is built on the same foundation as Windows 10, so you can continue using the applications and features you're used to, but with a new look and more capabilities.
Transform your device ecosystem with Windows 11 Pro.
Windows 11 Pro — designed for hybrid work — offers intuitive designs and advanced features to simplify collaboration, boost productivity, enhance security and simplify management.
1Forrester and Techaisle. (June 2020). 2020 and The Total Economic Impact™ of Windows Pro Devices.
2Microsoft. (Sept. 2021). Security Signals Boost SDM Research Learnings.
3Adams, M. (2021, Oct. 4). Microsoft Extends Application Compatibility Promise to Windows 11.