 Microsoft Teams
Work like your team is in one room — from collaborative sessions to large broadcasts to dialing in to a conference using your phone.
Embrace a communication hub.
Part of Office 365®, available from Insight, Microsoft Teams™ centralises all aspects of team collaboration — including conversations, apps, projects and content — in a single platform.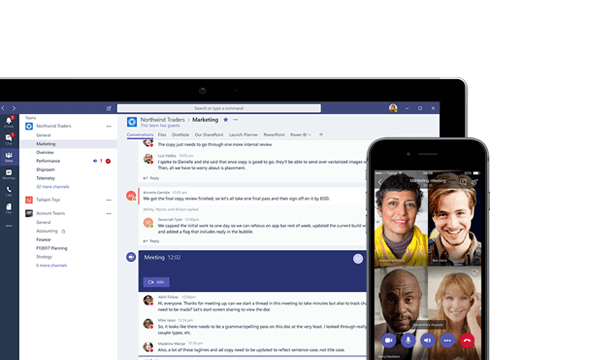 Connect
It's easy to chat or call with online meetings, meeting spaces, live broadcasts, audio conferencing and more.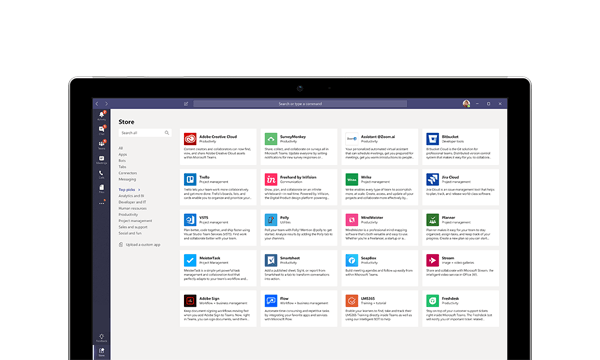 Cultivate
Tailor Microsoft Teams to your particular environment to enable fast, seamless communications and teamwork.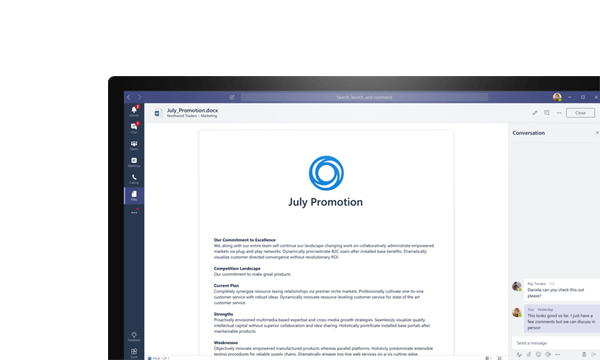 Contribute
Participate with others on your team through shared Word, PowerPoint®, Excel, OneNote® and other software files.
Do more with Teams
The Microsoft Cloud is built for the new world of work and with 145 million daily active users, Teams has become the new front end. Listen to this on demand webinar and explore:
Native Teams in Windows 11
New updates and features including; Spotlight, Emoji's, Improved sharing, over 700 SAAS apps, managing cameras and meetings.
The reinforcing circuit between Teams, Powerapps, Powerautomate and Dynamics 365 to build a new class of collaborative apps.
Integrated voice and video
As your mobile workforce grows, your legacy voice and video collaboration systems may not be able to keep up. Calling in Teams provides the features you need to deliver seamless, collaborative experiences for employees, business partners and customers.
See how Microsoft Teams can offer simplified communication with an all-in-one solution and understand the benefits of Teams Calling including rich calling features and streamline management in our Teams Calling Workshop.

Empowering great teamwork
Feel like you're all together, regardless of physical location. Microsoft Teams™ provides a central communication platform that can help you drive engaging meetings, large broadcasts, audio conferencing and more. Even better, it syncs with the rest of Office 365 for easy integration and security.
Westland Milk improves its Microsoft Teams maturity to boost collaboration and efficiency
Based in Hokitika, New Zealand, Westland Milk Products is one of the country's largest dairy processors. Westland Milk's team needs to collaborate effectively to ensure that dairy products from 400 farmers are efficiently distributed across New Zealand and exported to 40 countries worldwide.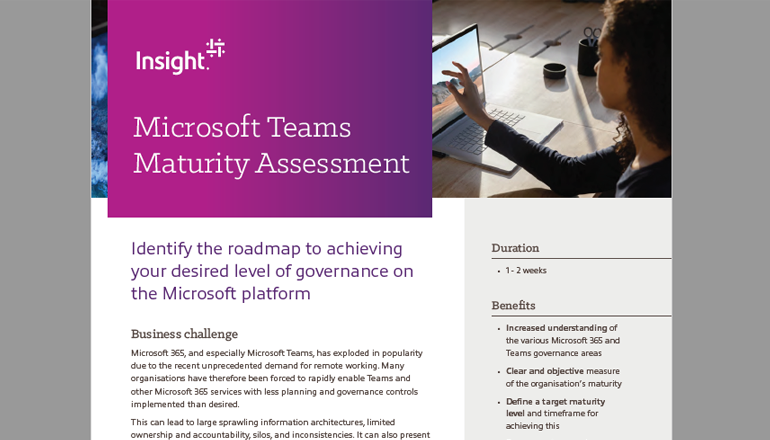 Microsoft Teams Maturity Assessment
The trend toward remote work accelerated faster than anyone could have predicted. Many organisations had to scramble to get on-site teams moved to remote work as quickly as possible. Identify the roadmap to achieving your desired level of governance on the Microsoft platform.
Learn more
Achieve more together with Microsoft Teams.

Communicate effectively
Get your team on the same page with group chat, online meetings, calling, and web conferencing.

Work better together
Collaborate on files with built-in Office 365 apps like Word, Excel, PowerPoint, and SharePoint.

Customise your workspace
Add in your favorite Microsoft apps and third-party services to keep the business moving forward.

Keep your team secure
Get end-to-end security, administrative control, and compliance—all powered by Office 365.
Enterprise-grade security
Rest assured your conversations and information are protected. Because it's part of Office 365, Microsoft Teams includes built-in multifactor authentication, secure guest access and other security measures.