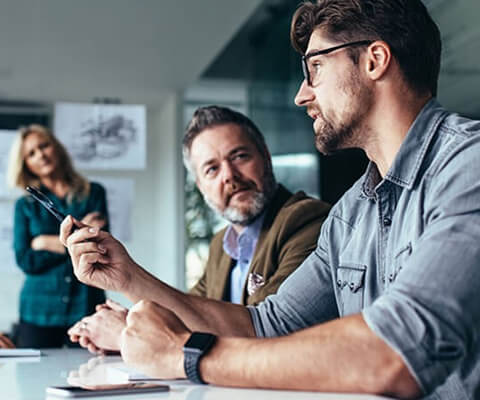 B

alance today's tasks and tomorrow's transformation.

Your IT team needs to keep day-to-day operations running smoothly while also innovating to drive new business outcomes. Luckily, you don't have to do it alone. Our managed IT services provide support for your fundamental operations and systems.

Our proven methodology and deep vendor relationships allow us to create efficiencies, lower costs, accelerate operations and more. And, when we handle your routine, manual tasks, you're free to focus on more strategic projects.
A

zure Expert Managed Service Partner

We're accredited by Microsoft as an Azure Expert Managed Services Partner and can provide managed services for the following Microsoft technologies and platforms:
✔ Managed Data & AI
- Azure Data Platform
✔ Managed Modern Apps
- Azure Integration Platform
- Dynamics 365
- Power Apps
✔ Managed Modern Workplace
- SharePoint + Valo
✔ Managed Modern Infrastructure
- Azure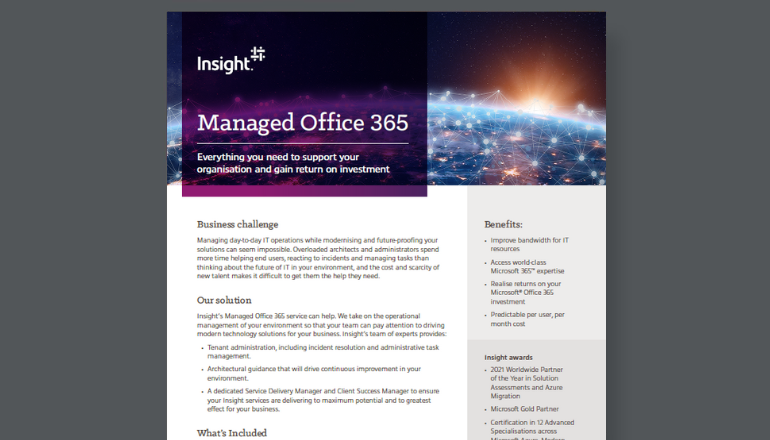 Insight Managed Office 365
Everything you need to support your organisation and gain return on investment.
Learn more
D

o more in the cloud with Insight

The ability to adapt with speed and agility is more vital than ever for modern SMCs. Migrating to Insight's secure Cloud Management Platform provides your business with the Microsoft infrastructure and software needed to meet this demand, increasing collaboration, security, mobility and intelligence.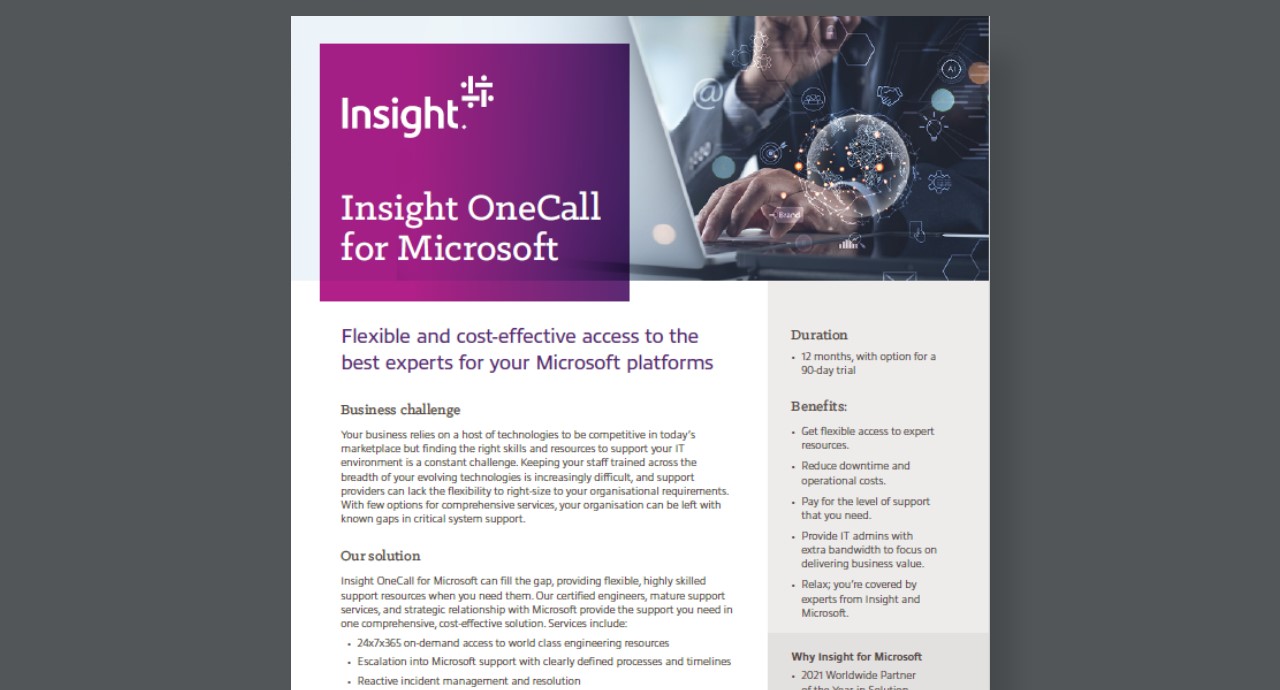 Insight OneCall for Microsoft
Insight OneCall for Microsoft can fill the gap, providing flexible, highly skilled support resources when you need them. Our certified engineers, mature support services, and strategic relationship with Microsoft provide the support you need in one comprehensive, cost-effective solution.
Learn more
W

hy Insight for managed IT services?

Insight Managed Services provides the right balance of people, processes, and tools across our Australian and global technical teams to deliver both proactive and reactive services.
O

ur teams:
Manage 10,000+ assets for 1,000+ client locations across 6 continents
Operate 3 geographically dispersed support centers 24/7
Have access to 200+ certified IT engineers & field support technicians