A whole new world of teamwork
Teams come in all shapes and sizes. They can be local or spread across the globe. To transform from collaboration to true teamwork, you need to invest in tools that bring out their best in the conference room, in a team space, in any space.
Vibrant displays
The 50.5-inch screen offers 4K+ resolution with a 3:2 aspect ratio for vivid picture quality and plenty of workspace.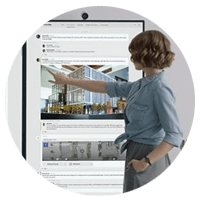 Enhanced meetings
The 4K cameras rotate with the device to portrait and landscape modes. And a far-field mic captures crisp audio.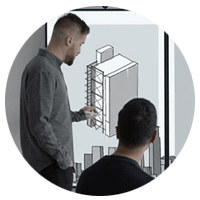 Improved collaboration
Multi-user sign-in enables simultaneous access to documents and ideas for everyone involved in a meeting.
Re-invent meetings.
The Surface Hub 2 interactive whiteboard brings teams together on a single, large canvas. Simply approach the display and start a conference with the tap of your finger. Content sharing from PC to a Surface Hub 2 is effortless.
Unleash the power of Microsoft® applications you rely on from the Surface Hub 2, including:
Purpose-built for teams
More than a smart board or an interactive whiteboard, Surface Hub 2 devices are optimized for teams that want to connect, co-create, and produce with others regardless of their location. Surface Hub 2 devices bring together the best of Microsoft collaboration tools – from Windows and Office to Microsoft Whiteboard and Microsoft Teams.
Work seamlessly together
Move from the first idea to the finished product without missing a beat. On Surface Hub 2X, you will be able to streamline your group workflow through enhanced collaboration features like multi-user sign-in to simultaneously access and save content to the cloud.
An untethered workspace
You can easily fit the Surface Hub 2 anywhere. Its thin, sleek design keeps it portable and adjustable for optimal viewing. The smart whiteboard can attach to a rolling stand for optimised mobility. And it can connect to up to four devices.