A circular economy is a healthy economy.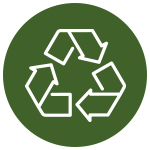 Recycled materials
Of the 50 million metric tons of electronic waste created each year, only 20% is recycled.1 Dell Technologies has created a circular design approach to help increase this percentage, returning production materials to their production cycles for continued use.
Sustainable supply chain
By 2025, more than half the world's population will live in conditions of water stress.2 That's why Dell Technologies works closely with suppliers to identify energy efficiency improvements and create water risk mitigation plans.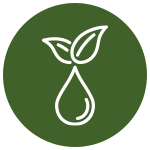 Bio-based resources
A first in the industry, Dell Technologies™ packaging material is made with locally grown, easily recyclable and renewably sourced bamboo. The company's goal is to ensure 100% of its packaging is either recyclable or compostable over the next few years.
Sustainable inside and out
The most sustainable Latitude™ ever has arrived. Backed by 25 years of innovation, this device has a reduced carbon footprint, waterborne paints and packaging sourced from ocean-bound plastics.
Zero-waste modernization: Your partner for tomorrow
Embracing new technologies and protecting the environment should go hand in hand. At the heart of what Insight and Dell Technologies deliver is an eco-friendly IT disposal solution that minimizes our negative environmental impact — wherever and whenever possible.
Plant a tree, shrink your carbon footprint.
In 2008, Dell Technologies set a goal of planting one million trees by 2020. In 2017, the company succeeded in restoring 2,000 acres of land — three years ahead of schedule. Today, the Plant a Tree program continues to protect and rejuvenate endangered habitats
in the United States.
Partnering to protect oceans
We can achieve a lot when we work together. Dell helped create NextWave Plastics — a group of like-minded businesses dedicated to keeping plastics in the economy and out of our oceans.
Windows to transformation.
Fast and responsive, Windows 10® has more built-in security features than ever to complement your new hardware. Secure sensitive information no matter where you work with multilayer anti-phishing and malware protection strategies.
There's no time like now to upgrade to sustainable Dell Technologies devices powered by Windows 10.
Take a big step toward a better world.
Reduce your impact and protect our planet with Insight and Dell Technologies.
Contact us to learn more.
Please fill out the form to get in touch with our team: