Surface is the answer.
You want a tablet, but you need a laptop. Microsoft Surface®, available from Insight, offers the best of both.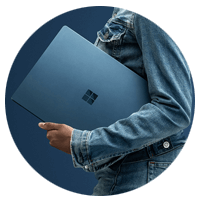 Versatile
Surface goes everywhere. And with digital pen, keyboard and touch capabilities, it does almost everything.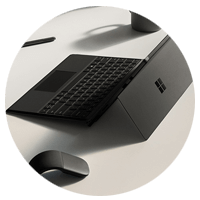 Advanced
With Windows® 10, you can run Office, Photoshop® and thousands of apps from the Windows Store.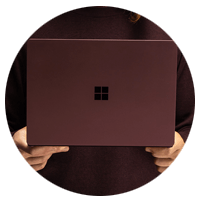 Powerful
Every Surface is powered by an Intel® Core™ processor and keeps your data safe with enterprise-class security.
The most productive devices on the planet
You want a tablet, but you need a laptop. Microsoft Surface offers the best of both. There's no limit to what you can achieve.
Unlock the power of the group.
The Surface Hub® 2 is designed to advance the way people work together naturally. It's optimised for teammates who want to connect, co-create and work in sync with others, regardless of geographic location.
From Windows® and Office 365® to Microsoft® Whiteboard and Microsoft Teams™, the Surface Hub 2 brings together the Microsoft collaboration tools you use every day. Connect your team across any distance and empower workers to share ideas on a canvas as big as their imagination.
Creativity at work
Get the best mix of creative flexibility and high-performance computing with the Surface Studio® 2. The 28-inch PixelSense display offers true-to-life color with touch-screen functionality. And NVIDIA® GeForce® graphics provide the ultimate visual experience.
Powered by an Intel® Core™ i7 processor and solid-state hard drive, the Surface Studio 2 enables fast, robust performance. Whether you're editing 4K video, using 3D modeling software or rendering huge files, even the most intensive, professional-grade software runs smoothly.
Enhance your Surface experience.
Accessories such as the Surface Pen, Surface Precision Mouse, Surface Ergonomic Keyboard and Surface Dial will help you work smarter. Find your rhythm and create your ideal work environment with adjustable, noise-canceling Surface Headphones.
Your familiar desktop on any Surface device
Windows 10 provides a direct connection to everything you need to do your work. No matter the Surface device, Windows 10 gives you access to all of your desktop apps, so you can take your work and productivity with you wherever you go.
Ready to add Surface to your organisation's arsenal?
We can help you select, deploy and maintain your Surface assets.