---
At Insight, we work in step with you to not just deliver IT solutions and services, but to also expand your power to realise big goals and drive bold changes.
---
Y

our challenge is our motivation.

No one achieves their loftiest goals alone. That's why we're proud to support our clients as they strive for more with end-to-end IT solutions that maximise the value of technology today and accelerate innovation for tomorrow.
Today, economic evolution moves faster than ever.
And, in a digital-first world, you need a savvy, goal-oriented technology strategy that will help you keep pace with your changing industry and help you realise your most ambitious business outcomes. See how we stack up against our competitors.
Channel Futures MSP 501 list
Teammates with
technical expertise
On the CRN Solution
Provider 500
Forbes America's Best Employers for Diversity 2021
Best Places to Work 2021 - Australia
A

mbition runs deep with our clients.
For more than three decades, we've helped organisations transform their business obstacles into opportunities to accomplish big things. Discover just some of our ambitious collaborations:
Insight and Cromwell: Bringing people and information together
When this Australia-based property firm acquired a new business in Europe, they found themselves with duplicate technology and a need for more rigorous, streamlined identity management. .
Explore the full client story →
TAFE NSW responds to evolving industry needs, government regulations and a need to prepare business for the future
TAFE NSW adopts Microsoft first strategy for 500,000 students, 140 campuses, and 900 courses.
Explore the full client story →
Water Corporation: A new, streamlined self-service experience for 1.3 million customers
Water Corporation partnered with Insight to deliver a new, customer-focused website that delivered water usage insights, billing information, and self-service facilities to its customers.
Explore the full client story →
Perpetual Corporate Trust partners with Insight on ground-breaking due diligence transformation
Perpetual Corporate Trust delivers an array of important administrative and fiduciary services for the funds management and debt capital markets.
Explore the full client story →
Steward Health Care Transforms Care Through Digital Innovation
Steward Health Care applied real-time data analytics to monitor length of stay, optimize processes and help patients get home to their loved ones sooner.
Explore the full client story →
---
With vast technical expertise and deep industry experience, we're uniquely equipped to help you navigate an always-changing, always-growing digital economy.
---
W

hat's your ambition?
Tell us your bold vision for the future.
We'll help you make it happen.
Talk to a specialist
Why work with us?
Ambition is in our DNA. Insight began in 1988 with two brothers, a college business class plan and a credit card advance. Now, we're a global, Fortune 500-ranked, award-winning solution integrator — and we're just getting started.

Our appetite for evolution isn't just proven by our business achievements. It's also evident in our: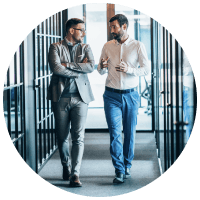 Trusted partnerships
Our meaningful connections with leading technology organisations — such as Apple, AWS®, Cisco, Dell, Google, Intel, Microsoft, VMware and more — enable constant improvements in how we serve our clients.
Corporate citizenship
From local engagement efforts to charitable partnerships to environmentally sound hardware lifecycle practices, we're always finding new opportunities to give back to our communities.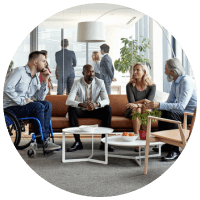 Commitment to inclusion
As a diverse team with a range of perspectives and backgrounds, we're positioned to challenge the status quo, promote equity in the technology industry and identify creative solutions.
Feed your ambition. Subscribe to the Tech Journal, Insight's free quarterly magazine that unpacks IT trends, changes and strategies from the industry experts themselves.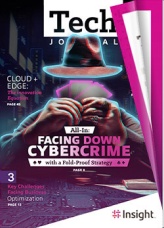 Never miss an issue.
With your free subscription, you'll receive each quarterly issue emailed directly to your inbox with bonus content inside.
Subscribe today